Through so-called direct numerical simulation (DNS) and water channel experiments, flow instabilities, flow separation and turbulent wall boundary layers and their effects are investigated. The aim is to gain a profound understanding of these flows and their contribution to flow resistance in order to derive conclusions about actions to reduce resistance. As this inevitably involves large amounts of data, we are also concerned with their reduction, e.g. by modal analysis, compression and structure identification, as well as their appropriate visualization.
Head of working group Boundary Layers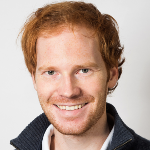 Christoph Wenzel, M.Sc.
Dr.-Ing.
Head of working group Boundary Layers