The calibration model measuring section is a small supersonic wind tunnel which works according to the so-called "suck down" principle. In this operating mode, dried air is sucked from a reservoir into a vacuum system. The strong reduction of the temperature as a result of expansion into the vacuum makes it necessary to dry the air.
The acceleration of the dried air to supersonic speeds is achieved by means of a pair of laval nozzles. The nozzles are designed as fast-expanding "short expansion" corner laval nozzles with a fixed nozzle contour corresponding to the respective nominal power number.
The wind tunnel is primarily used for calibration but also for the development of measurement technology.
In addition, an easy-to-operate test facility is available, which is excellently suitable for the independent execution of student work.
Contact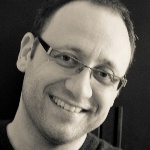 Uwe Gaisbauer
Dr.-Ing.
Head of working group Experimental Gas Dynamics