Within the BMWi funded project WINSENT a wind energy test field for the research of wind energy use in complex terrain is established and simulated by numerical models.

The expansion of wind energy as a renewable, climate-friendly source of energy is supported by the BMWi-funded WindForS Project
WINSENT
by the construction of a wind energy test field. Within the project, two research wind turbines will be installed in the mountainous complex terrain of the Swabian Alb. The turbines will have a hub height of approx. 75 metres and a rotor diameter of approx. 50 metres.
The wind fields in the terrain will be characterized by measuring masts equipped with various sensors for speed measurement. In addition, a model chain will be developed within the framework of the project in order to carry out realistic CFD simulations.
Musik / Music in Video: 'Voyager' composed and perfomed by Lamass,
licenced through Jamendo.com
Ziel des Forschungsvorhabens ist es, ein besseres Verständnis des Strömungsfeldes und der Leistungsgenerierung von Windenergie im komplexen Gelände zu erhalten, um so die Geschwindigkeitsüberhöhung des Windes über die Geländekante hinweg gewinnbringend auszunutzen.
Involviert im WINSENT Projekt sind neben der Universität Stuttgart die TU München, die Hochschule Esslingen, das Karlsruher Institut für Technologie, das Zentrum für Sonnenenergie- und Wasserstoff-Forschung Baden-Württemberg, die Eberhard Karls Universität Tübingen und die Hochschule Aalen.
Das Projekt besteht aus kleineren Teilprojekten mit unterschiedlichen Zielsetzungen:
Im Rahmen des Teilprojektes FoWEA werden numerische Modelle der Anlage erstellt und durch Vergleich mit Messdaten validiert. Das IAG entwickelt die Fluid-Struktur-Kopplung zwischen dem CFD Strömungslöser FLOWer und dem FEM-Löser Kratos, der von der TUM erweitert wird. Balken- und Schalenmodelle der Anlagenstruktur werden erstellt und die Ergebnisse der aeroelastischen Berechnungen verglichen. Zur Bewertung der FLOWer- Kratos Kopplung wird ein Vergleich mit Ergebnissen einer Kopplung von FLOWer mit dem Mehrkörpersimulationstool SIMPACK durchgeführt. Zusätzlich werden Feldmessungen und vereinfachte BEM- basierte Modelle mit diesen Ergebnissen verglichen.
Im zweiten Teilprojekt Mikroklima werden Einflüsse mikrometeorologischer und topographischer Effekte auf das lokale Strömungsfeld untersucht. Es werden Messungen und Simulationen vor und nach Errichtung der beiden Windenergieanlagen durchgeführt, um Veränderungen des Windes im Testfeld zu bestimmen. Am IAG werden hochaufgelöste instationäre Simulationen mit Hilfe von Einströmdaten der Projektpartner durchgeführt, um so realistische Anströmbedingungen der Windenergieanlagen über die bewaldete Hangkante des Geländes hinweg zu erhalten. Hierzu müssen Implementierungen von thermischer Schichtung, Vegetationsmodellen und Rauigkeitswechseln etc. im Strömungslöser FLOWer eingearbeitet werden.
Weitere aktuelle Projekte unserer Arbeitsgruppe sind:
In this video, the decommissioned rotor is turned out of the wind in the so-called "L-position" for maintenance work, whereby large flow separations take place behind the cross-flow, angular nacelle. The nominal wind speed and the maximum wind speed designed for the turbine are simulated to investigate a normal and an extreme case. These cases were simulated with the DES method and the Lambda-2 isosurfaces of the vortex structures are shown here. Pilot studies with these flow fields will be carried out at the project partners with a helicopter flight simulator to determine the effects on helicopter flight dynamics".
Translated with www.DeepL.com/Translator (free version)
Detailed simulation of local wind fields in complex terrain and their influence on wind turbines
Dr.-Ing. Thorsten Lutz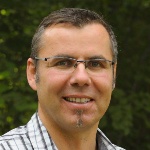 Thorsten Lutz
Dr.-Ing.
Head of working group Aircraft Aerodynamics / Head of working group Wind Energy